Best Interactive Lead Generation Techniques: Ebook
Why Ads Don't Work Anymore?
Let's face it. Ads don't work anymore.
That's right. In a time when consumers are inundated with ads from every corner of their screens (and lives), it is becoming increasingly difficult for brands to stand out.
Sure you can try to get innovative with your ad copies, make them controversial or relatable. But at the end of the day, you're still competing in a landscape where other brands have also figured out similar strategies and have crowded out the users' screens.
This is why most ads sound like a mob of two-year-olds in a playground, shouting and crying out loud, "Look at Me! Me! Me!" *Cue in white noise*
Moreover, your customers are already wary and tired of being tricked to give out their email addresses through ads. From over promising ad copies to irritating exit-intent popups, from catchy subject lines in mailers to embellished CTAs, the average consumer is now slowly becoming immune to advertising and marketing.
How do we change this? What does work? In an advertising deaf world, how do we prove to our customers that we are truly worth their contact information?
What Does Work?
Remember: "Bad advertising is about the advertiser. Good advertising is about the customer."Let's take an example:
HubSpot, a marketing automation tool has a marketing grader that lets prospective customers find out if their website is marketing friendly. It takes the website's link, scans the website and checks for SEO best practices, social media links etc.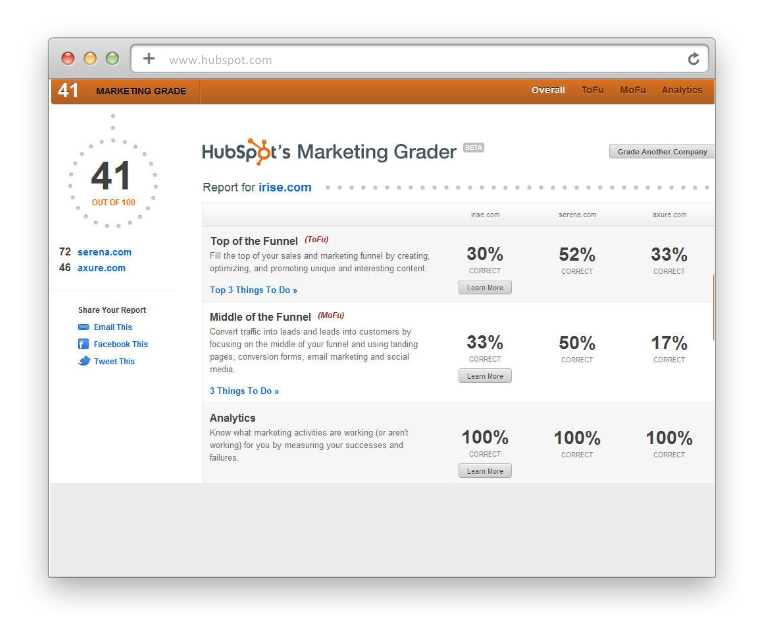 When HubSpot's users type in their link, its tool gets back to them with a lot of value. Value that is upfront and with no ask for a commitment. Believe it or not, this is the key. Because, why not? Wouldn't you fall in love with a brand that has already proved its value and happily buy the product? It's not surprising that this tool is one of HubSpot's major lead generation routes.
Here's another example: VenturePact created a mobile app cost calculator that lets prospective clients estimate the cost of building an app at different locations across the world.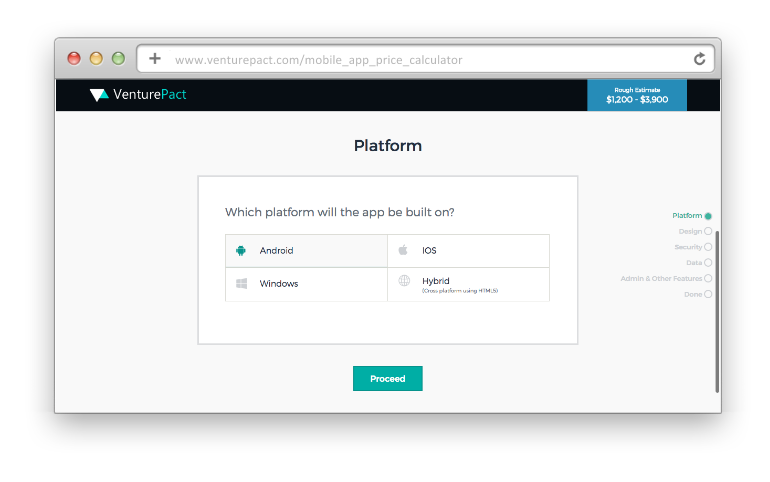 A lot of customers have derived great value from this exercise, by answering a few quick questions. It goes without saying that VenturePact too, drives a majority of its leads from this avenue.
The lesson here is to think beyond ads and create experiences that let you build trust with your customers. Just like the examples we cited above, a great way to instill trust is to offer apps that add direct value to your customers.
Why Digital Experiences Work?
So why are calculators, or for that matter, graders, scanners, virtual try ons better lead generation techniques than your run in the mill e-books & landing pages?
They are interactive: There is a definite input and output. This is unlike blogs or e-books where one just consumes content. Calculators let you interact with the content. Imagine going into an Apple store and just hearing the pitches and not really interacting with the sales guy and you miss out on his inputs about the new iPhone, wouldn't it be boring?
They are more memorable: Interactive tools allow you to catch your customer's attention with content that's easy on the eyes. Not just that, research shows that people tend to remember a lot (65 percent to be exact) of visual content even three days after they've seen it. Wouldn't it be a conversation-empowering feat to achieve for your marketing team? Now you can easily stand out in that marketing event next month – just project your cool calculator on a TV screen at your booth and watch those curious customers swarming in.
They provide with personalized outputs: Who doesn't like attention? What if there was a sure shot technique to make anyone you ask out for a date feel special? Yes, serenading your marketing clients can get that awesome.B2B consumers expect one-to-one relationships rather than blanket content. Obviously, customers are more likely to develop a long term relationship with a company if they receive personalized offers that clearly tell them what they needed to hear. That's the best part about input-based visual content marketing. They provide unique insights to your unique users, each and every time.
They have the ability to serve your customers before they become your customers: Because they are upfront and transparent, visual marketing tools feel like complimentary services, much like a sample at a perfume shop. When served with a smile, even sour orange juice looks appetizing because let's face it, it's complimentary! Calculators are that first engaging step you want your buyers to experience on their journey to buy your product. When you offer a free product with the intention of only deepening a relationship that is yet to be built, you are showing your company's willingness to work with your client's needs.
They have a high conversion rate: Because of the interactivity and personalized nature of these products, they convert much better than your usual e-books and webinars. Moreover, since the user is not entering into any commitment (like they are with e-books etc), they are more open to signing up.
They transform sales pitches to sales interactions: The genius of adopting web calculators lies behind the fact that they can easily cut to the chase and make the subtle sales pitch without the users even noticing it. More like: "I like your home loan calculator. I have more questions. Here's my number, call me!"
They tell a story: A web calculator ensures you can tell your story in a compelling and concise way. And more importantly, it keeps them engaged and focused on inputting data. It then provides them with the right insights they were looking for leaving them satisfied: and willing to convert.
They are more attuned to human psychology: People are inclined to get involved with the idea that they're looking for solutions themselves through a tool than be blatantly sold a package by a salesman or a blog.
They provide instant gratification: You get what you expect and more. There's no wait, and definitely no endless scrolling.
They guarantee positive customer feedback: Because they exhibit a clear value proposition, they almost guarantee a value-adding feedback from your customers. In other words, if your lead gen tool is really good, expect your customers to email you asking for more.
They work in a logical step-by-step process: And that's how they incrementally express the importance of your product to ensure conversions leading to a low bounce rate.
They bring in traffic: People love interacting with tools that tell them a little more about themselves and the products they love. These result-based interactions are capable of inspiring your customers with emotional reactions and urging them to share these tools with their peers over social media.
So what are some good apps and techniques that have shown great lead generation potential for brands across the world? Let's delve into them and see what makes them effective.
Calculators
When you want to buy insurance or enroll in an online school, the first thing you'll search for is "what is the cost of ____". In fact, millions of searches are made every second along such lines where the primary intent is to understand the cost or ROI of making a purchase.
So instead of just throwing a generic landing page, why not answer that query directly? This is where interactive calculators come in. Your users can answer a few basic questions about their needs and get instant gratification in the form of an estimate that immediately answers a question or adds value.
Imagine how much engagement a hospital would achieve with a calculator along the lines of "Calculate Your Risk of Getting a Heart Disease" or how much conversion an online school would get with a calculator titled "Calculate How Much You Save in Scholarships".
Consider this real life example. VenturePact's Mobile App Cost Calculator helps companies quickly estimate how much it would cost to build an app – a question that perturbs literally every company.
After launching this calculator, VenturePact saw an unprecedented boost in their lead generation. Their traffic increased by 28 percent due to more search and referral traffic whereas conversion rates increased by 33 percent due to better engagement and messaging.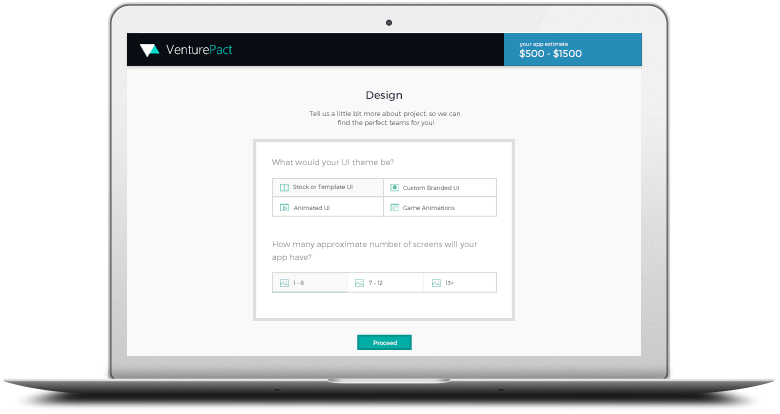 You will notice that the mobile-app cost calculator keeps its questions simple and short. This is very important to get your point across as swiftly and accurately as possible. The point here is to keep the questions simple enough that the user can quickly run through them, but also at the same time, keep them thorough enough so that you get useful sales data.
Further, the calculator has a built-in capability to go viral. Before showing the result, it asks users to recommend the calculator to a friend. One can ask the user to share the calculator on their social networks as a way to 'pay' you. Or you can easily share links with pre-drafted tweets and Facebook/LinkedIn posts within the results page and the emails can also help bring in referral traffic.
Want to explore calculators in more depth? Check out our specialized course on generating leads with calculators.
Graders and Scanners
Your customers always want to know more about themselves. Most businesses are keen on understanding what they are doing well and where can they improve. Graders help you ask your customers the right questions and outline why they should take particular steps to address their pain points without sounding in-your-face at all. They provide an outlet to gain some clear feedback from your customer base. That's why they are more insightful tools of the lead gen lot.
Example:
Take HubSpot for example. They have a grader that grades the marketing friendliness of websites. By understanding and telling their customers where their inbound traffic is lagging, HubSpot can easily figure out what their customer's current top priorities are and tell them what they really should be. That's the power of a simple, efficient and useful marketing tool. The grader analyzes all of your marketing — not just your website — reviews over 30 different factors and then provides an overall Marketing Grade on a 1-100 scale, in under 30 seconds.
Here's how it graded Time's website: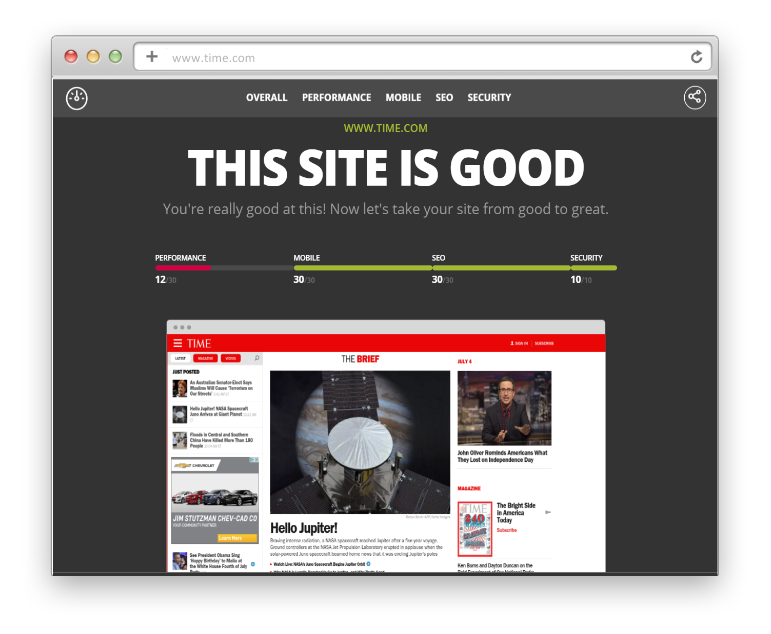 And this is what its insights look like: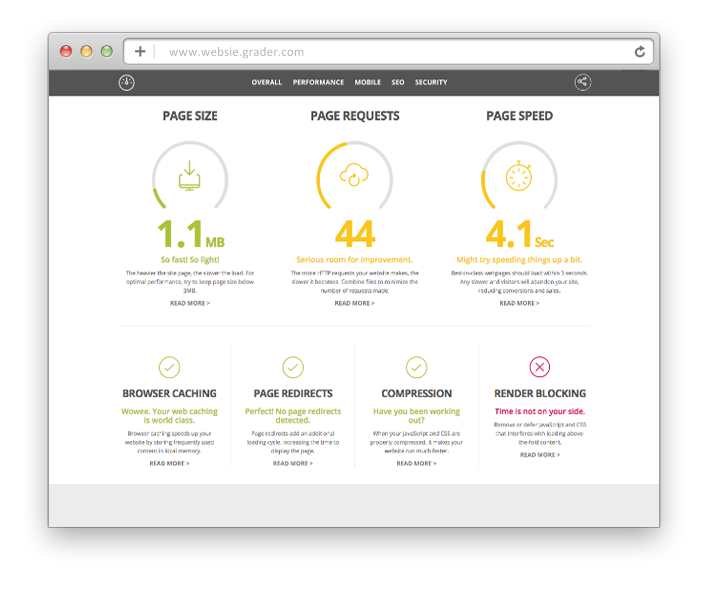 Like this? You're also going to love their Tweet Grader and the Search Grader.
Graders have evolved and a lot of companies have packaged graders with more analytical tools than ever before. You can use these tools to tell your customers how your brand can help them be better. Which is why we love how HubSpot does it, right at the end of its grader's results page: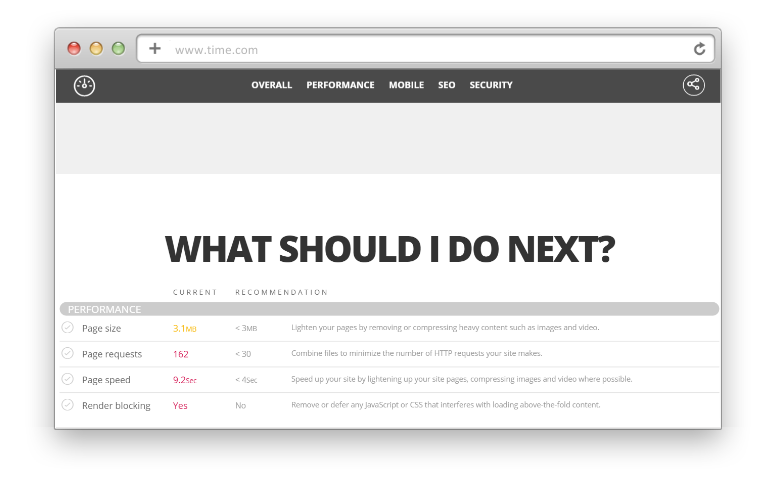 The ever-brilliant 'what should I do next?' cue. Additionally, we suggest you pay special attention to the word cloud on the result page to check whether the headlines your brand has been using for its content are directed in the right direction.
Other possibilities include essay graders employed by universities to make the process less tedious and more impartial. Or an IQ grader on a children's educational app to help them understand how your app can help improve a child's IQ. Graders can also be used to grade human health data like renal functional ability or BMI. The possibilities are endless, really!
Online Communities and Forums
Probably one of the most interactive of all lead generation techniques, industry forums and communities represent a valuable, untapped prospecting space. Buyers, especially the sophisticated B2B ones, always look up to their peers for answers so, online communities and niche forums can readily enable such interactions.
A brand can set itself as an authority if it becomes the first one to host its industry's forum. With the right promotion strategy and after crossing a certain traffic threshold, such a community can become the go to place for all questions relating to that industry, thereby bringing in tonnes of organic traffic and credence.
A great example is Gartner's CloudAdvice. The IT research behemoth created this peer to peer community of IT leaders where they can post their questions and discuss their unique IT challenges. While not sure how many new customers can Gartner attribute to this forum, it goes without saying that Gartner is able to capture a larger mind share of its customers.
In their forum, they have a 'heroes' section where they recognize contributors with the most number of upvotes. Interestingly, even mature IT buyers enjoy such gamification and work towards the reward of recognition.
Another IT forum is hosted by Spiceworks, an IT Management tool for IT managers in the enterprise sector. The community has today matured into over a million managers discussing their terminal IT issues. From SMB to enterprise, Manager to CIO, cat lover to zombie killer – you should be able to find everyone here. Special contributors called Panelists discuss what works and what doesn't while some "researchers" collect and post data on trends and news. Goes without saying that these contributors are also (or become) Spiceworks' buyers.
Mobile and Web Games
Mobile and web games can also be effective routes to engage customers, but creating a game alone will not be enough to solve the purpose. Marketers will also need to think about where your target customers are spending most of their time at and how to reach them in those spaces.
The increasing effectiveness of mobile games has given rise to a dynamic and exciting industry that has helped bring together game mechanics and marketing in engaging customers to solve game-specific problems. This is called gamification.Because they are games, they almost automatically make a seemingly negative term like 'lead generation' sound like fun. This is bound to get customers excited as they pack the wow factor with them. Games also come across as tools that ask less of your customers' commitment in return of more fun. The more willing your participants are, the more leads your system will generate.
It is often far more easy to learn about your target audience – their innate attitudes and needs – from simple questions about their preferences and personality, and not from their email IDs. Games are your avenue to get there. So, remember to take a step back and really understand who these leads are as individuals. And how they, individually, influence your sales efforts.
The goal is to increase the probability that a user / customer repeats certain desired steps to reach an objective, in turn providing brands with an opportunity to influence their behavior. Some essential game elements used for this purpose are scoring systems, ranking lists, virtual goods and small incentives. Research has shown that gamification can provide a high return on investment for marketing efforts when implemented correctly. (Dr. Städtgen, Gamification and Motivation, 2015).
Example:
Big brands have embraced gamification with open arms actually. Volkswagen for example used mobile gaming to generate leads in a challenging marketplace like China recently.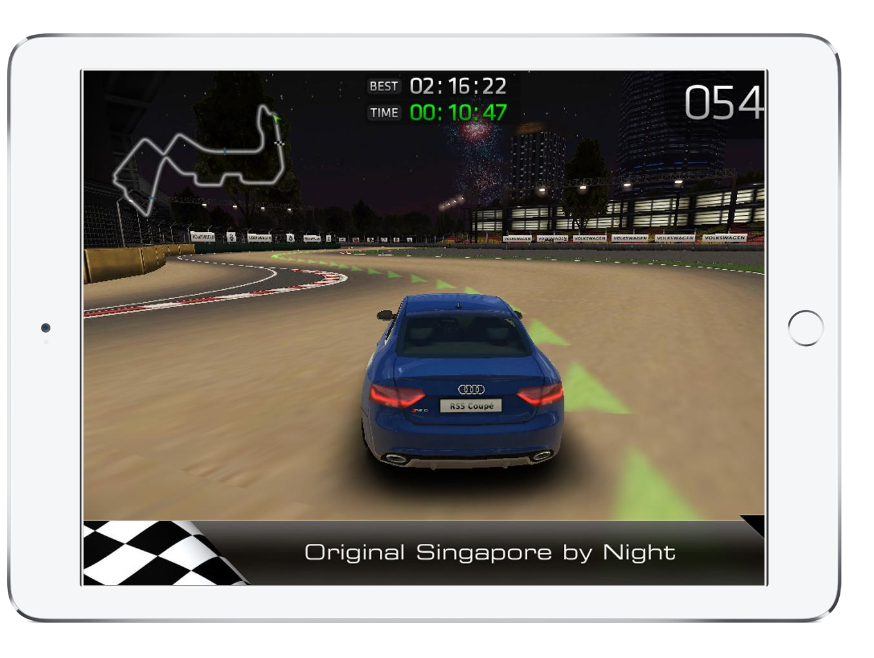 They created a classic car racing app where you can race with Volkswagen cars. While the app itself is pretty simple, it is genius in that users get acquainted with the entire Volkswagen portfolio as they strive to unlock more expensive add ons and models. According to a report by Mobile Marketer, Volkswagen China generated 300 qualified sales leads in 10 weeks by using 'branded mobile games'.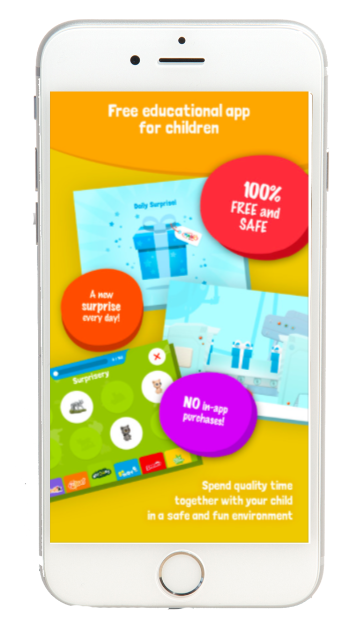 Another interesting example is of Kinder Joy, a leading chocolate brand, that launched an app for 5-12 year olds. The app lets its young users dapple with various activities like quizzes, puzzles and educational games. While enjoying their content, the children are also continuously being exposed to the Kinder Joy brand. Since the app allows parents to exercise complete control over time limits and accessibility, the app also builds a trustworthy image in front of the parents.
Virtual Reality
When people talk about VR today, a common idea is to imagine a black VR headset strapped onto your face. The only catch here is that although VR is generating a lot of buzz, most brands are still finding it harder to employ the tech today. While devices like Oculus Rift and Samsung Gear VR are now available to consumers, mobile games are far more mainstream and accessible to employ your marketing efforts. Blame Johnny Quest for that, shall we? That image has been ingrained in our minds for decades, and it kinda propels this myopic misconception that VR is an isolating experience. That you can't really tap into what VR offers, not just yet.
And that's wrong. It's not every year that a New York Times wins double Grand Prix at Cannes for its VR initiatives run on its exclusively VR app. Lockheed Martin's 'Field Trip to Mars' also took home 19 Cannes Lions in total this year! Granted there is not much awareness in this direction as marketers continue to subscribe to the 360 video or Google Cardboard campaigns. But all's not lost as a lot of brands have kept an open mind about VR and achieved marvellous outcomes.
Market leading brands like IKEA are looking at VR to help co-create a future along with their customers and are exhibiting great trust in using it as a marketing tool. And why not? IKEA as a brand has always believed in providing customers with game changing products. The company took that culture a step ahead when it offered its customers a VR app this year. The app lets users virtually experience a real-world size IKEA kitchen within their homes.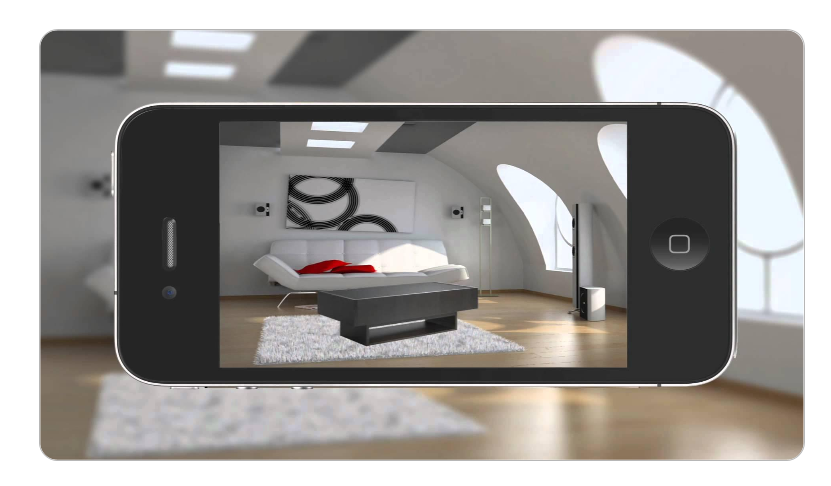 The VR experience has helped IKEA enter the homes of its prospective customers. While it's a novel idea, IKEA obviously stands to gain some critical feedback on one of its flagship products directly from its customers. But what's more important is that while the world is still figuring out their product tweaks, IKEA will be busy shipping out more flat-packed game changers.
Even French cosmetics giant L'Oreal hasn't hesitated to exhibit the grit to market innovatively amidst competition. L'Oreal's research-driven and popular Makeup Genius app allows its customers to try various makeup schemes on their smartphones. The app depends on big data and algorithms to find its way into the hearts and minds of L'Oreal's customers. In fact, according to news reports, the app has already been downloaded about 20 million times.
Makeup Genius is a good example to note how important it is to determine your game's reward criteria to successfully market your product. Once you have determined the problem your players must solve, figure out what motivates the player. This is the most important part – this is where your brand comes in.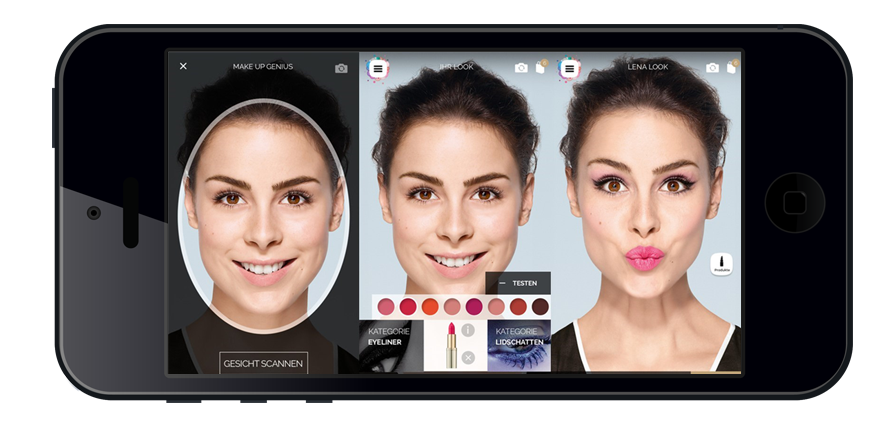 Makeup Genius is built to be very consistent with L'Oreal's brand identity and also cleverly keeps its users engaged. For example, the L'Oreal makeup app has a pretty awesome face detection ability so you don't necessarily need to click a selfie or upload an image from the gallery to make it work. Instead, the app works like a video where you can pout, smile and play with other facial expressions as the makeup stays put on you. The app also has a repository of several 'built-in' looks for the users to choose from as they continue to try out L'Oreal's products.
Late To The Digital Party?
Today's customers know when you are not paying attention and when you're just throwing cheesy pick up lines. In this crowded space, even the best pickup lines may not cut it!
Hence, the race for customers will not be run on ad bidding and click baits anymore. The winner in this new game will be the one who can leverage the latest in tech to add the most amount of real value instantly in an interactive and personalized way.
In light of this changing marketing landscape, marketing departments really need to start thinking about what their 'digital quotient' is and how to maximize it. They need to either bring in their own technologists or get close to theirs IT/Tech departments and get down to some serious product development!
It's not too far when marketing will become the new IT!