15

min read
101 Guide to Quiz Marketing: Discover the Real Power of Quizzes
Attracting and engaging users in today's crowded digital landscape can be daunting. However, quiz marketing can be the ultimate solution to capture their attention and stand out. 
With their interactive and personalized nature, quizzes have the power to captivate users, drive participation, and ultimately convert them into loyal customers. That's why quiz marketing is crucial for businesses aiming to thrive in the digital age.
In this blog, we'll unveil the benefits and types of quizzes, steps, and techniques to create successful campaigns, and foolproof tools to achieve your goals. 
What Is Quiz Marketing?
In simple terms, quiz marketing is the usage of a quiz for promotional activities for your brand or business. It means that you're utilizing a quiz to collect valuable insights about your audience and important contact information.
A quiz is a powerful tool to reach out to wider audiences. Moreover, interactive content, such as quizzes, is 81% more effective at grabbing people's attention than static content.
Benefits of Using Quiz Marketing
1. Build an Email List
Through quizzes, apart from the responses to your questions, you can also collect lead information like the names, email addresses, and contact details of your audience. You can do this by simply asking questions or adding a lead generation form. This will help you build your email list and boost your email marketing strategy. 
2. Engages Audience and Encourages Interaction
Quiz marketing is an effective way of promoting your brand, as quizzes let the customers directly interact with your content, increasing engagement. Moreover, interactive content generates 2x more conversions than passive content. 
3. Provides Insights and Data for Future Marketing Efforts
Another reason why quizzes for marketing are crucial is that they allow you to ask relevant questions regarding the needs and preferences of your target audience. 
This will help you collect valuable insights and improve your understanding of what your customers are looking for in your product. You can then improve your product or offer based on your collected information. This will ultimately help boost your future marketing efforts. 
4. Helps to Build Brand Awareness and Loyalty
If you utilize your interactive quiz the right way, it can become your most valuable resource to build brand awareness and loyalty. You just need to ensure that you ask the right questions and then analyze the responses to understand what your customers want.
Finally, provide them with a product or service that fulfills their needs. This will ensure that your customers will come back to buy from you!
5. Increase Conversions and Drive Sales
The interactive and conversational element quizzes offer makes them more appealing to audiences. Hence, including interactive quizzes in your promotional content helps reduce drop-off rates, increase conversions, and drive sales.
Types of Quizzes for Marketing
Now that we know their benefits let's discuss the types of quizzes you can create for your marketing strategy.
1. Trivia Quiz
A trivia quiz is a fun game or quiz where the users are asked questions about trending and popular topics. It could be about anything from pop culture to travel and tourism. Let's check out an example:
2. Personality Quiz
Personality quizzes are among the most popular types of quizzes. These quizzes often ask questions about an individual's preferences, likes, and dislikes to provide a unique insight into their personality.
[Try Out the Quiz]
3. Product Recommendation Quiz
Product recommendation quizzes are a great way to smoothen the buying journey for your customers. Through such a quiz, you can ask prospective customers about their budget, requirements, and solution preferences and give recommendations based on their responses. Here's a product recommendation quiz that we created using Outgrow-
[Try Out the Quiz]
4. Assessment Quiz
Assessments or graded quizzes can be utilized if you're trying to test the knowledge of your users on a particular topic. It can be a great tool to make learning fun and easy. Let's understand this better with an example.
[Try Out the Quiz]
Steps to Create a Quiz Marketing Campaign
Creating engaging interactive quizzes can help you widen your reach and improve your overall conversion rate and sales. But for your quiz to work, you must have a solid quiz marketing campaign in place. So, let us discuss the steps involved in doing so!
1. Setting Campaign Goals
The most important step is– setting your campaign objectives. Before starting out, you should understand what you're trying to achieve. It could be anything from increasing profits, boosting social media presence, or improving lead generation. The key is understanding what you want and having a quantitative approach to reaching the goal.
2. Identifying the Target Audience
Once you've set up your goals, you need to know who you're trying to reach out to through your marketing campaign. A predefined target audience will help you with all the steps you need to take further. For example, if you're trying to sell a video game through your quiz, your target audience could be a wide range of people- from teenagers to people in their mid-30s or even 40s.
3. Choosing the Right Quiz Type
This should be quite simple. Based on the kind of product you're selling and the audience you're targeting, you should be able to understand which type of quiz will fit the best. 
For example, if you're trying to promote your ed tech company, you can utilize the assessment quiz type and create graded tests on different subjects in order to give an idea to your audience about your product. 
4. Crafting Effective Questions and Answers
Once you've decided upon your quiz type, you may start creating your quiz questions. It's very important to ensure that the questions, options, answers, and results you create are effective and relevant. 
Engagement is the key here. So create simple, relevant, and just the right number of questions and see your engagement rate soaring. 
5. Designing an Engaging Quiz Interface
Apart from the content, the overall look and feel of your quiz also hold an important place. You should try to design your quiz in a way that your users can go through it easily without any trouble or confusion. 
The first thing that your user will see is your welcome page. Thus, you should make sure that the design and overall look of your welcome page are appealing to the eyes. 
You should also include attractive images, a clear and understandable headline, and a bold CTA button. You can set all of this up by navigating to the design settings of your online quiz maker. 
6. Add a Lead Gen Form
One of the main purposes of creating interactive content is to generate qualified leads. And to do so, you should add a lead generation form to your content piece. You can add it to your welcome page with the questions, after the questions, and even with the results. 
7. Promoting the Quiz to the Target Audience
Once everything is done and finalized, you should shift your focus to promotion. Conduct some research and understand which channels will be most suitable for your target audience. Now, start promoting your quiz and wait for the results!
Select the right distribution channels based on your target audience, and put all your focus on making your quiz a hit!
8. Tracking and Analyzing Results
The final step is tracking and analyzing the results. The data you collect through your marketing efforts is nothing less than a treasure for you. By tracking and analyzing your results properly, you'll be able to retarget your potential customers and improve your future marketing efforts. 
Best Practices for Quiz Marketing
We've seen how you can set up your quiz marketing campaign. Now, to make things easier for you, let's go through some tips and best practices that'll come in handy!
1. Keep it Simple and Relevant
Always make sure that your quiz is simple and relevant. Users are never looking for extremely fancy words or designs when they interact with some content online. Your questions should be easily readable and understandable. This will help you decrease the drop-off rate from your quiz.
2. Use Visual and Interactive Elements
To make your quiz look appealing and attractive, you can utilize visual and interactive elements like images, GIFs, videos, audio, and some bold and clear CTAs. 
3. Create a Valuable and Shareable Results Page
Your users take your entire quiz just so that they can view the results most relevant to them. So, to help provide your users with valuable results, you should set up all the results and map them to different responses properly based on your workflow. The workflow or mechanism of your quiz should be well-defined in advance. This will help you provide relevant and valuable results to your users. 
Furthermore, in order to encourage them to share their results, you can add social media widgets on your results page. This will ultimately help bring your quiz into the limelight. 
4. Optimize for Mobile Devices
According to the latest data from GSMA Intelligence, the total number of unique mobile users around the world grew by 168 million over the past 12 months. Hence, we can conclude that a major chunk of internet users browse the internet on their mobile devices. Hence, it is extremely crucial that you optimize your interactive quiz for mobile devices.
5. Test and Iterate for Better Results
Before starting with content distribution, testing it in order to understand and make relevant improvements is always a great idea. You can use Outgrow to create your quiz, and using the A/B testing and split testing features, you can come up with the most refined version of your quiz. 
6 Mindblowing Quiz Marketing Techniques for Your Business
1. Create Audience-centric Quizzes
Creating audience-centric quizzes refers to designing quizzes tailored to your target audience. Instead of creating generic quizzes, this technique focuses on understanding your audience's preferences and interests. Here's how you can implement this technique effectively:
Identify target audience

: Understand audience demographics and interests for tailored quiz content.

Research preferences

: Gather insights through surveys, interviews, and social listening to create relevant quiz questions.

Personalize content

: Customize quiz questions, options, and outcomes to match audience preferences.

Incorporate branding

: Infuse brand personality and messaging to establish a stronger connection.

Analyze and iterate

: Track engagement, analyze data, and improve future quizzes based on audience insights.
2. Create an Attractive Quiz Landing Page
The landing page of your quiz, that is, the webpage where it is present, should be captivating enough to force your users to go through your quiz. Make sure you add attractive elements like images, a benefit-focused headline, a relevant offer, etc. All this can really help you take your marketing game up a notch. 
3. Embed Your Quiz to Your Website
You should promote your quiz through various channels, including your website. Simply embed your quiz to your website and start promoting the relevant webpage in order to gain a good amount of traffic. You can embed your quiz in various different styles like full-page, in-page, pop-up, etc. 
4. Leverage Social Media Marketing
In 2023, there are estimated to be 4.89 billion total social media users worldwide. This proves that we're living in the era of social networking. Hence, it is extremely crucial that you focus your efforts on social media marketing. Because whatever age group you are planning to target, we're pretty sure they're regular social media users.
5. Utilize SEO to Improve Your Position on SERPs
SEO can help you do wonders. By including some relevant keywords with good search volumes, you can ensure your position in the first fold of SERP. If you're able to achieve this, consider half of your promotional work done.
6. Nurture Leads Through Email Marketing
Utilize quizzes in email marketing to nurture leads effectively. Engage leads through quiz-based email campaigns, where recipients are invited to participate and answer quiz questions. 
Send follow-up emails that deliver relevant content and offers based on quiz results to nurture leads further. 
Utilize quiz data to segment leads and create targeted email campaigns. Maintain continuous engagement by incorporating recurring quizzes in emails to keep leads involved and interested. This approach maximizes engagement, personalization, and lead nurturing potential.
Quiz Marketing Tools and Platforms
1. Outgrow

Outgrow is an interactive content tool that helps you create appealing and engaging quizzes. 
But with Outgrow, the bonus is that it's not just quizzes that you get access to. You get a complete toolkit for your marketing campaign. 
You can create free surveys, forms, calculators, giveaways, assessments, product recommendations, and whatnot! 
And the best part? It is a no-code and easy-to-use platform that lets you design amazing interactive content pieces within minutes. 
Let's take a look at some of the features of the Outgrow quiz maker–
Fully customizable layouts and premade templates

Access to 1,000,000+ free stock images powered by Unsplash

WYSIWYG builder that lets you drag and drop elements

Detailed overview of analytics in graphical form to make segmentation easier

Social share widgets available

Multiple embed types are available

1000+ integration options- both natively and via Zapier

24*7 customer support available
Pricing: Outgrow offers various types of plans to suit the needs of its wide customer base. The freelancer plan starts at $14/month and goes up to $25/month if you go for the Pro version. The essentials plan starts at $95/month, and the business plan starts at $600/month. 
And if you're looking for some specific features, Outgrow can also create a customized plan for you and price it accordingly.
2. HubSpot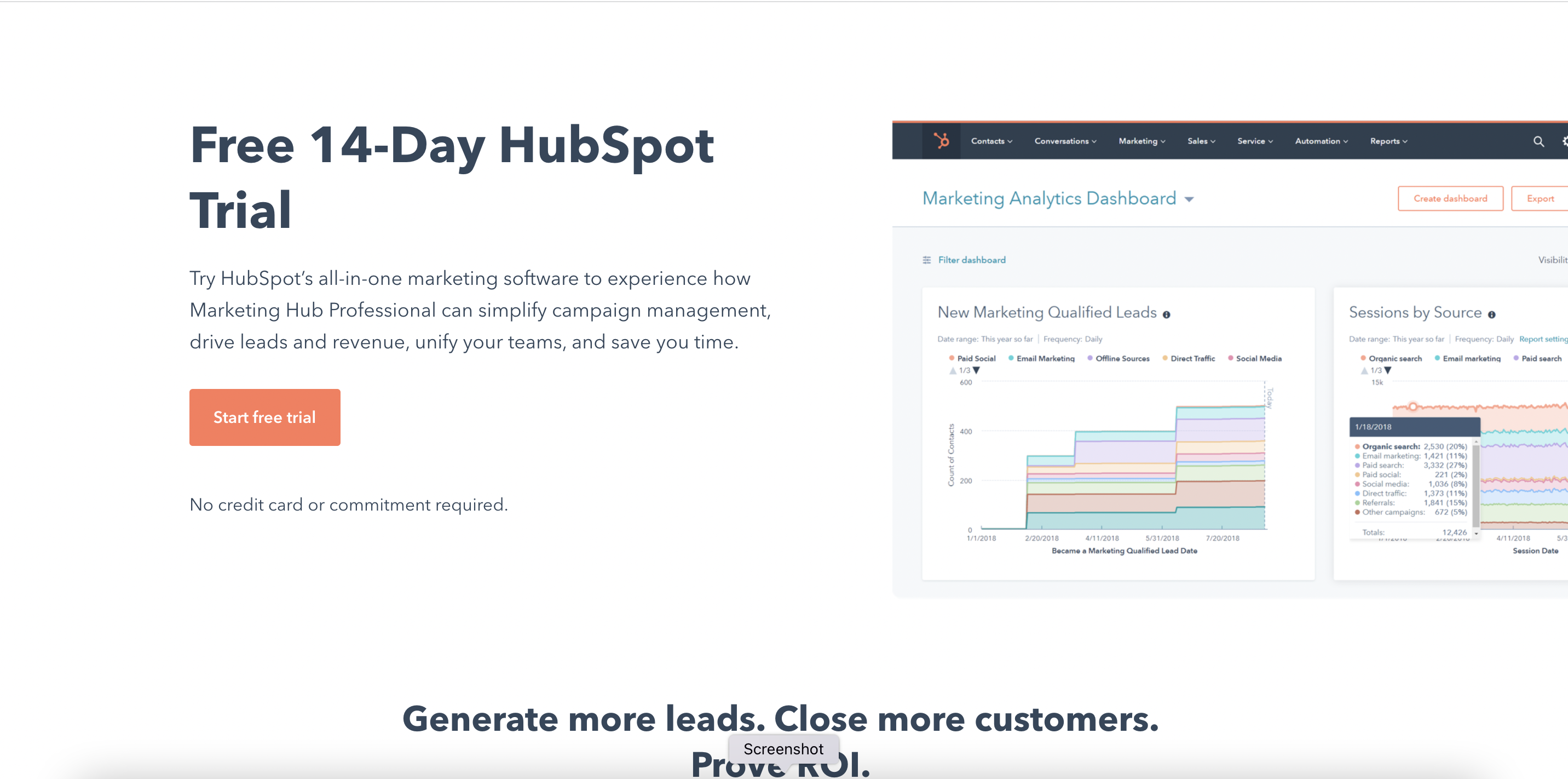 HubSpot is an all-in-one inbound marketing and sales software that offers several features to help businesses attract, engage, and delight their customers. Its quiz feature integrates seamlessly with its CRM, allowing businesses to automatically capture quiz responses and track them within their customer database. Here are some core features of the tool:
Create engaging quizzes to capture leads and gather valuable customer data.

Track quiz responses and store them in your customer database for personalized marketing.

Use quizzes to attract and capture potential customers, increasing your marketing reach.

Tailor your quizzes with branding elements, personalized questions, and outcomes for a unique user experience.
Pricing: HubSpot offers various pricing plans to cater to different business needs. The starting price for HubSpot's comprehensive suite of marketing, sales, and service tools is typically around $800 per month.
3. Mentimeter

Mentimeter is an interactive presentation and audience response system that goes beyond traditional quizzes to engage and interact with participants during presentations, meetings, or events. Here are some core features of the tool:
Real-time audience participation with live voting and quiz responses.

Diverse question types, including word clouds, open-ended questions, scales, and ratings.

Instant display of quiz results through visually appealing charts and graphs.

Customization options to match branding or presentation style.

Additional engagement tools like live voting, brainstorming sessions, and Q&A sessions.
Pricing: Mentimeter offers a free plan with limited features, allowing users to create basic quizzes and gather responses. For more advanced features, they offer several paid plans starting at $11.99 per month. 
4. Thinkific

Thinkific offers a versatile quiz maker tool designed to enhance the learning experience and assess learners' understanding. Here are some more features of the tool: 
Versatile question types for engaging marketing quizzes. 

Customizable branding options for a cohesive look. 

Multimedia integration for enhanced engagement. 

Progress tracking and reporting for insights on learner performance. Flexible quiz settings to tailor the assessment experience.
Pricing: Thinkific offers a free plan with limited features, which allows you to create quizzes and engage learners at a basic level. They have paid versions as well that start from $36. 
5. Shortstack

Shortstack is a versatile and user-friendly quiz marketing platform that provides a range of interactive features to engage and captivate participants. Here are some key highlights of Shortstack's quiz marketing capabilities:
Real-time audience participation with live voting and quiz responses.

Diverse question types: word clouds, open-ended questions, scales, and ratings.

Instant display of visually appealing quiz results through charts and graphs.

Customization options to match branding or presentation style.
Pricing: Pricing: Shortstack offers a trial period and a minimum Business plan starting at $79 per month.
Are you Ready to Start Your Quiz Marketing Campaign?
We covered the basics, benefits, types, and advanced details of quizzes in marketing, including setting up a quiz marketing campaign and best practices.
Now, it's time for you to gear up and start your work. Set up your goals, choose your audience and start creating your quiz. If you haven't signed up with a quiz maker, you can try Outgrow's quiz maker and check out their wide range of features and templates. Sign up here for a 7-day free trial!  
FAQs